Well it was too windy to guide for crappie yesterday. But, I just so happened to have a Broken Bow trip (Lower Mt. Fork River) booked.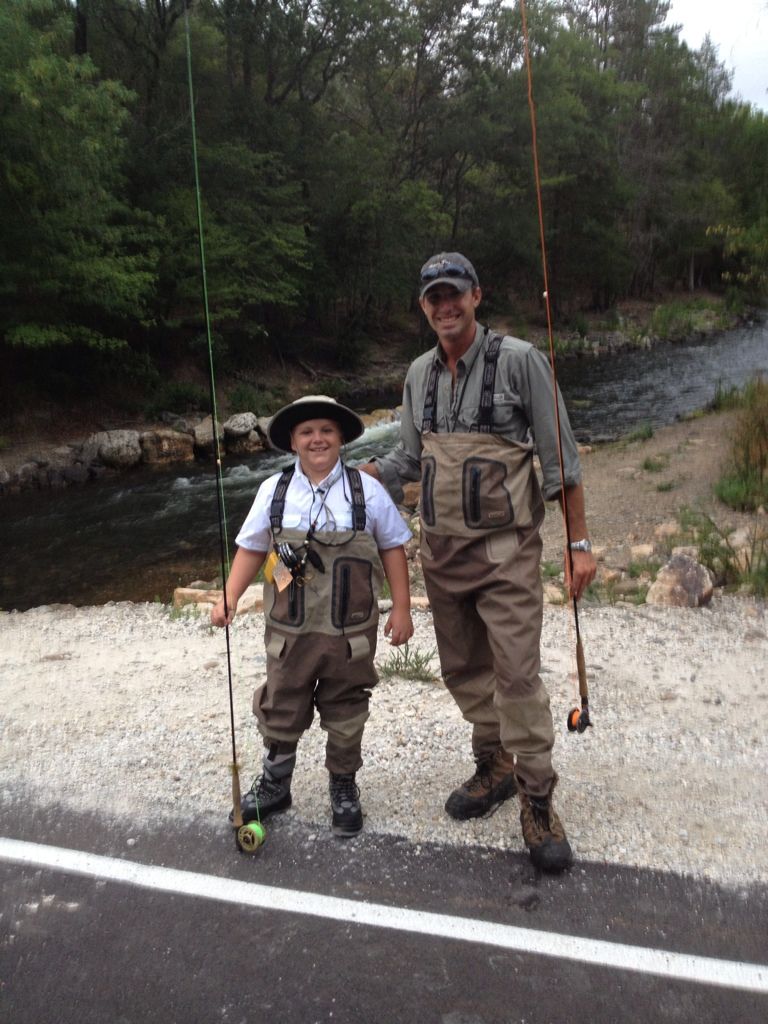 The Lower Mt Fork River gets stocked with fat rainbow and brown trout every other Thursday all year long. I have been a fishing guide at the Lower Mt. Fork River for many years now. I have seen its good days, bad days, and average days. Before the flood a few years back, it was GREAT! All that rain we had 5-6 years ago, filled Broken Bow Lake up and it almost crested. So they flooded the river when they opened up all the gates. When they did that, it wiped out whole populations of bugs. There are still some bugs but not enough to really sustain a wild population of trout. There are, however, a few wild ones here and there. If you know what you are doing and have the correct flies, you can expect to catch 30-50 on an outing. Sometimes, I will land over 100 if I have the whole day to myself. It all depends on how many people are at the park.
Stocking Schedule: 4,000 plus fish every other Thursday.
2012: June 14, 28; July 12, 26; Aug. 9, 23; Sept. 6, 20
Made it really easy being able to see everything he sees. Also being able to correct him in an instant. Two of the fish I help set the hook while he was looking at scenery. Lots of "why " questions, but they were actually all about fishing. I quizzed him a little while later to see if he was actually asking for a reason, and amazingly he retained every bit.
Grandpa landed a couple dozen off on his own and said he hooked a 20 plus inch brown trout in the evening hole. Took him for a spin for around five minutes and broke him off in one of those deeper ditches. Sad. But he was all smiles telling me about it.
Little guy got 17 for his first ever fly fishing trip. Picked it up very fast. There are always lots of fish in the river here. Just because you cant see them does not mean they are not there.
If your a fly fisherman, I have the daily reports in the fly section on the Fishing Forum located in this site. It has pictures, tips and reports. Check it out! Otherwise the very best bait to use would to be dragging a small split shot on a number 4 hook with a minnow on the other end. Must be alive.
That rig will catch Smallmouth, Walleye, and of course Trout. You are allowed 6 Rainbows of any size within the "BLUE ZONE's", with only one being over 20 inches per day in any  of the ZONE'S. "RED ZONE'S" are for trophy trout areas. You may only harvest one Brown and one Rainbow Trout over 20 inches. Brown Trout have to be 20 + inches to keep and you may only harvest one per day.  This place is only 2.5 hours from Downtown Dallas located in Oklahoma. If you fish for trout, spinning or flyfishing, you will be amazed you have never been here. Beautiful.