Tips For Fishing Lake Lavon in the Summer for crappie:
Thermocline is at 18 ft and holding. There are no fish deeper than that due to no oxygen levels. so don't fish deeper than that!
Fish 12-16 ft of water on average. 18 max depth on brush. Fish are holding 10-14 ft brush that sits in 14 ft is magic sometimes.  15-16 ft is ok but fish will be in 12-14 ft of it most of the time. I have been finding the big ones hugging the bottom. It's luck to land on a pod of 13 plus inch fish. They move around a lot at night so the next day, your honey hole a couple days ago will be dry. Make sure you have at least 20 things on GPS in those depths, and u should do well.
Timber is popping out 2-5 fish per tree in deep water. Again fish are holding at 10-14 ft but scattered through the timber.
Black Crappie are shallow. You have to stump and tree hop in 5-8 ft of water in protected coves. Or brush in that depth would be killer. Long rods are important while doing this. If you bump the structure with the trolling motor or even boat, you probably spooked the whole school. The blacks are target-able in the shallows. You will still catch them randomly while deeper fishing. Blacks weigh more than whites, so if you pattern the black out, fish them hard. 7 13-15 inch black crappie would win it.
Fish 13 inches and plus are what you are looking for. I, personally, would only be looking to box 14-15 inchers to win the money. ( I'm talking about white crappie now) now I'm sure you have heard me say minnows will win it. You die hard jiggers might need to bring some minnows and just bite the bullet. Two people, I recommend you buy 1/2 pound of minnows per person. If I was was in the tourney, I'd get a lb and use all the bigger ones first. If you can net up some thread fin shad and keep them alive in the bait tanks, 4-6 inchers, all you will get is bigger crappie. Great great bait!
 Carolina rig them
8 lb line 6 floro for leader 1oz slip weight Two way swivel Size #4 hook or #6. -smaller one when fish are slow to bite.
I slip the weight on the main line first.
Tie on the swivel
Add 5 inches of 6 lb fluorocarbon as leader and attach hook. 3-5 inches on leader. No longer unless fishing standing timber or bridges where there are not a lot of snags the minnow can get into.
Don't stay in one spot for more than 15 mins and no bite. I usually move after two to five minutes an no bite. If you anchor on the brush, you just spooked the school. They are shallow right now. Water is very clear in some areas. Plenty of structure to fish for everyone on this lake. There is no way I can fish more than 20-30 way points in one day. There is no reason to, unless they are slow. As long as you are in this depths, you should do very well. Hold that minnow as still as possible is the depth they are at and you should have fun. Bring lots of hooks and weights. If your not loosing gear, your not catching fish. I have a bunch of pre made, by me, leaders I can attach quickly without having to re rig the whole setup.
Don't let your line hang at an angle, it must be up and down, vertical.. If it's at an angle, your over a limb or u have a fish. Bring lots of hooks and weights, ya I said it again, but I'm serious.
At the entrance of every cove there is timber. Find those areas and again, you should have fun. Use as many rods as you like. Spider rigging submerged structure will rake them in if the sandies stay out of the way. Lot of work for that though.
Bring ice ad water and keep hydrated. Cold water tastes way better than hot water.
Fish are biting and a lot of big fish are being caught.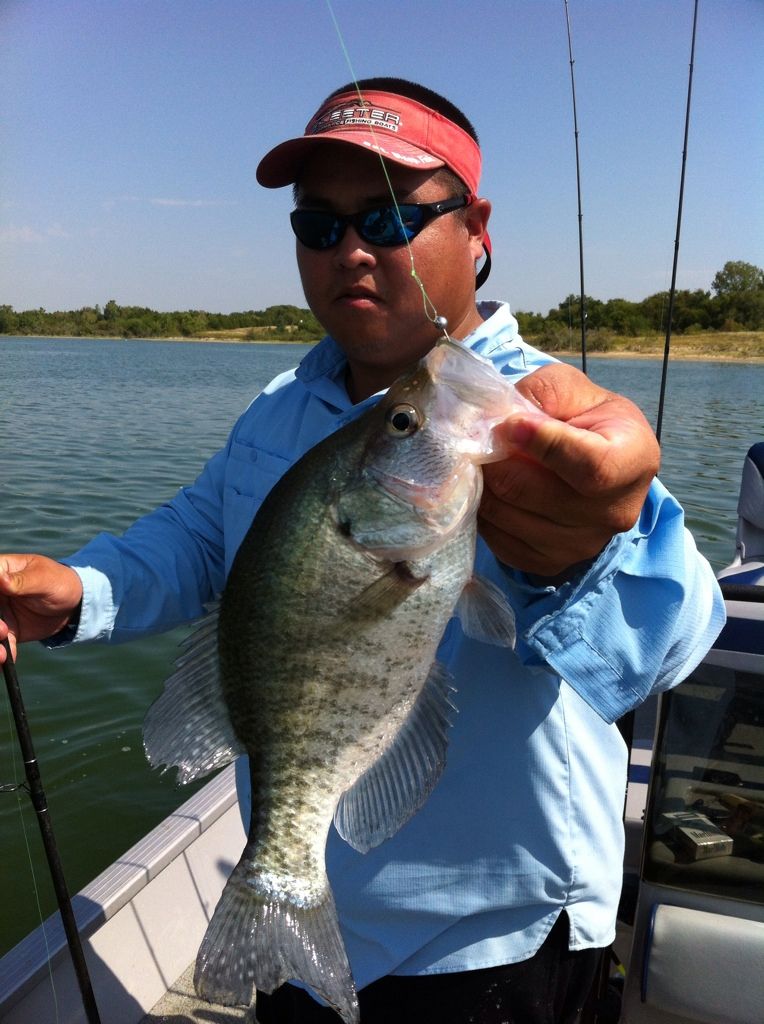 Dan with a 14 incher
Mike with 2 back to back 14 & 15 inch White Crappie
Have fun, be safe, and drink lots of water.