From Utah to Broken Bow, the trout love to play with my flies.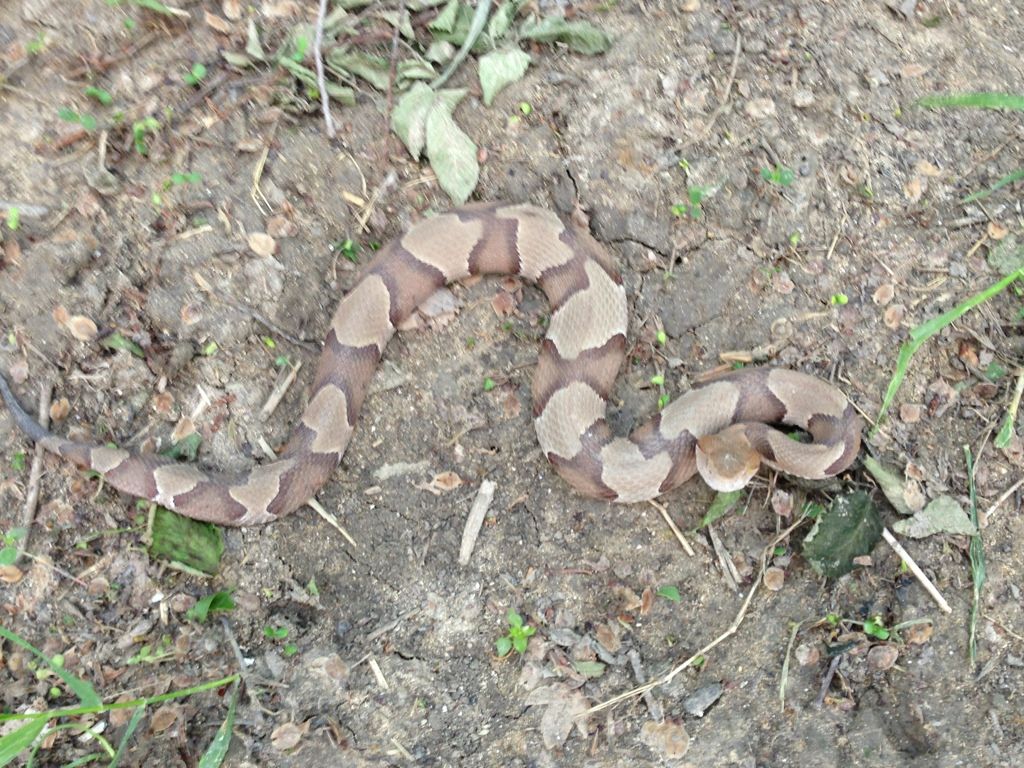 ( A new friend I met at the creek above. Copper Head Snake. Yes, they are out in force now. Keep your head pointed at the trail and not the landscapes while walking around. Go "around" the rocks at Cold Hole as there is a family of them living in there. Also the pines beside the river at EH has a couple wasp nests in them. As for the snakes. Please do not kill them oout of hate. Thats when people get bit. The venomous snakes keep the rodents in check as well as a few other things. If its in your house or yard, thats another thing. We are entering thier world and they need to be left alone. I see people here in Dallas kill Non-Venomous water snakes, because they are in the water and assume they are automaticlly a cotton mouth/ water moccisan. No need for that BS. )
Once again, its that time of year: Less Trout in the River System. The Summer, always, is harder due to all the people yanking fish out of the river at huge ratios. In the afternoon, you can see all the fish in the river when the sun gets to a good point. So, you can actually count 90% of the fish in front of you or in a pool. I showed some "friends" the ropes yesterday at the river and they both landed about a dozen nice fish and broke and LDR'ed a lot more than usual. Now, due to the small amounts of fish in the system, I am not going to post up the pictures ( they look like trout as usual and nothing over 18 inches, most were 13-16 inches). I dont want everyone converging on the 4-5 spots I figured out where they are stacked up at. But again, there are still enough fish to have fun and they will stock again and again. Like peeps have said in the post, schedule a trip close to when you "think" they are going to stock and plan your trip around that to increase the odds of landing more fish. One thing you really need to understand is, you "cannot stay in one spot to long". Keep on the move after you find out what they want to eat and hop pools every 10-15 mins. If you have ever seen me down there, I am always on the move. I will fish the Evening Hole in less than 1/2 hour – 45 mins, and pull 10 fish out of it easy. -But im not standing in one spot. Its plain retarted to stay in one spot all day long. Just because you see 30 fish in one spot doesnt mean your going to pick them all off. You need to find feeding fish or that one hungry fish willing to eat on a power walk. It only takes me 15-20 mins till I figure out that Magic fly for the day that is going to land the fish and make my trip a good one. Once you see a trout turn its head and look at your fly, " That fish is def catchable!" you just need to figure out why he didnt want to eat the fly on the drif. Drop a size down on the fly, your tippit is to heavy, your tag end on the knot is to long, wrong color, ect.
It was night and day when I got there compared to my Green River Trip. The stockers dont spook at all compared to the wild trout and we are super spoiled at BB. My "friends" were trailing behind me and stopping and saying, " theres a fish right there!" They wanted to catch it. . Ok, well ya, we can catch it, but I want you to target something bigger than a 12-13 inch fish. I wont stop and target a fish unless its 16 inches or over. It's just not worth my time. I will say this though, The trout at BB are a very curious fish and will usually take any fly you throw at them within reason. They have to learn what to eat now. There are not any pellets floating down the river anymore. So they will try any fly at least once till they get in the groove of being a new "Wild -semi- Trout".
The Near Deers worked ok, but not the best this trip. They wanted Brad B's (we will call it the BB Egg for now) -a "secret" Egg pattern that Brad told me not to tell the whole world about. If we targeted a fish with the BB Egg, we would hook it, break it off, or catch it 80% of the time. Other than that, yesterday there really was not much of a hatch going on. Saw a few, under 20, BWO's flying around. Other than that, just mosqitoes and gnats.
Sparkling RS2′s trailed behind the BB Eggs was key but not nessesary. The right color and size was the ticket all day. After my " friends" went back to the hotel, I went to the hot spots I located and pulled out 23 on Brads BB egg, and 12 on the Sparkling RS2, and 17 on the new fly pattern I saw at Utah's Fly Shop (Purple and Red Zebra Midge). They were almost swallowing the BradBasset's Egg patern.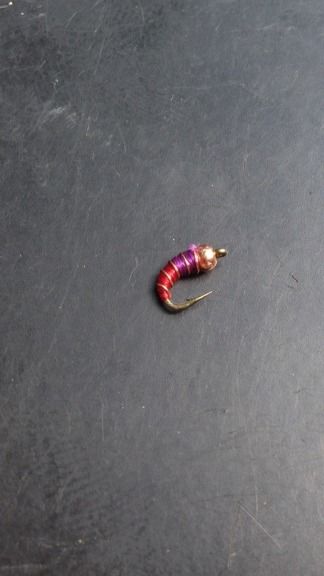 Purple & Red Zebra Midge #18
Sparkling RS2 #22 & #24
No more than 8 people I saw at anytime, when I drove by the EH at any given moment Monday. Park was empty. It was greatness.