So, I get a phone call from the General Manager at Bass Pro Shop (Garland) asking me to come in sometime, within a few days.- I'm on the Pro-Staff at BPS, to make the story make sense if you didn't know. Well, I was actually on Lake Ray Hubbard at the very moment fishing, so I puttered over to the slips and walk up to BPS. When I got up there, the GM shows me a flier. It's the
4th ANNUAL WORLD CHAMPIONSHIP
BASS ON THE FLY FISHING TOURNAMENT
@ LAKE FORK
BassOnTheFly.org
He tells me they are sponsoring me for the tourney and I am to enter it. I said ok, but with a confused face. He said to me right then, "You don't have a confident look right now." I then told him this:
1) I have fished Lake Fork 9 times. 6 of those days were Big Splash.
2) I have never fly fished for bass, EVER.
He tells me to figure it out. So, I order a new Vangaurd 8 weight fly rod and it has been sitting in the corner of the garage till Friday, the day before the tourney.
On Friday, I get my bass tourney partner to go scout it out with me. He doesn't fly fish but he knows the lake way better than I do, so he was out this tourney and I was solo for the tourney.
730 am we are on the east arm of the lake in 5-12 ft of water beating it up and hitting the banks with top waters. It took us 2 hours to figure out a good pattern and then then we started to rake them in.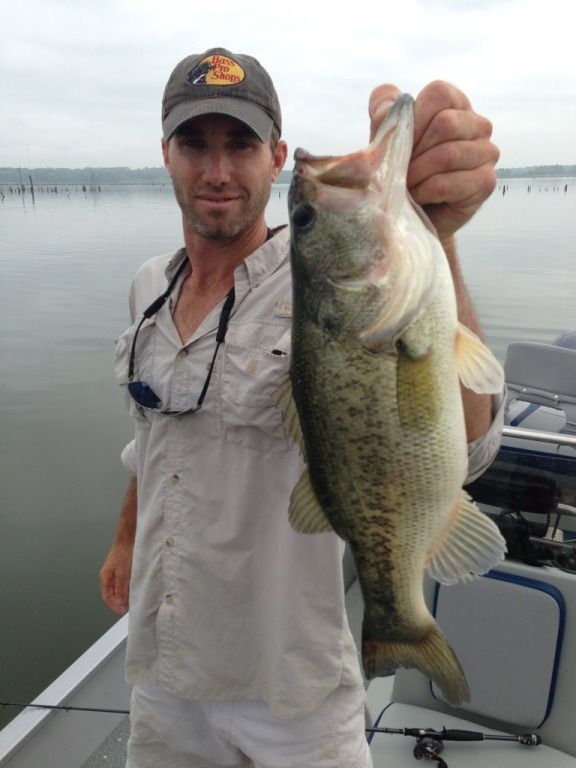 After we figured out what the fish were doing, I picked up the fly rod and started stripping flies.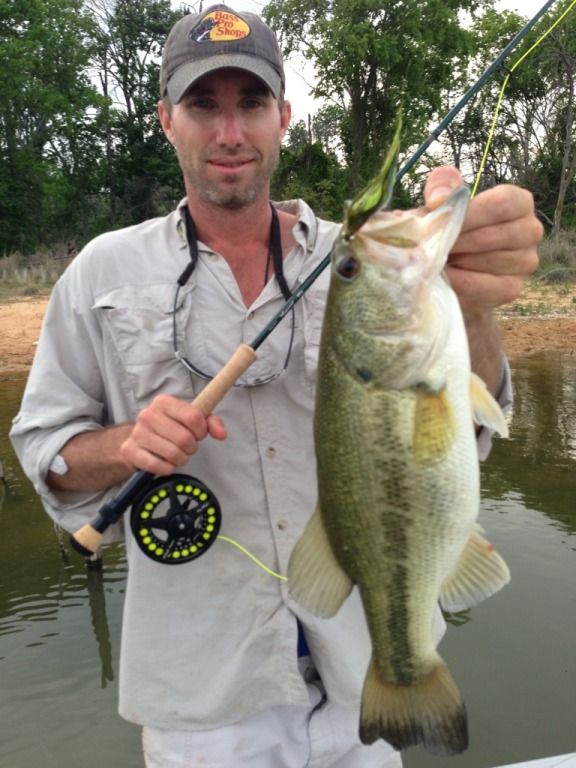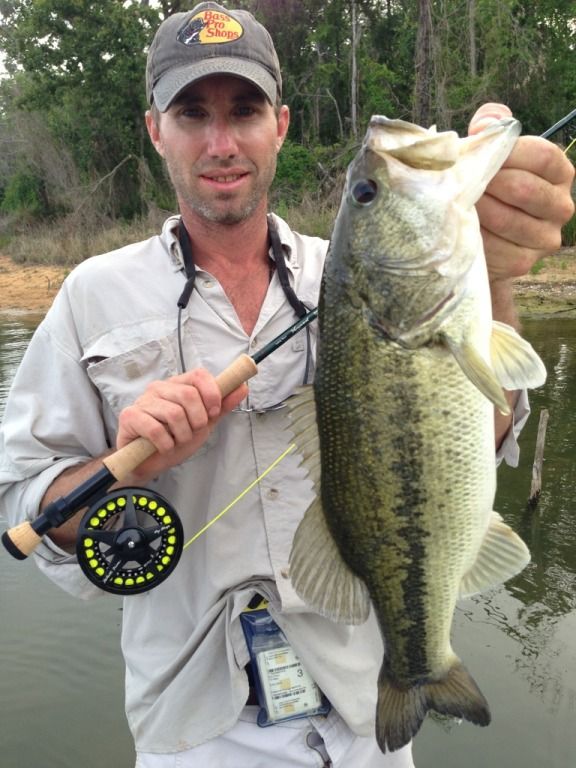 We ended up boating 30-40 LMB and I jigged up a couple crappie i found bedded up in some grass. Most of the bass were 4–6 lbs on average and where ever we went, we were catching them. I saw the biggest bass I have ever seen in the wild, had to be over 13-15 lbs. She was on a bed with a male in 5 ft of water on a log. She must have been found before, cause she was Spooking way to much and never calmed down, just kept swimming around. Would have loved to land that fish!
Day Two morning of tourney:
I get up and empty the boat of all tackle and rods, except a small fly box with some flies I tied up Friday night, and three fly rods. I'm on the highway at 3:15 am and arrive at 4:50 am. I get registered and launch the boat and I'm on the way to my honey hole!
As soon as it started to get light, my spot spontaneously combusts and it's on fire now. I landed 3 magnum Sandbass 18 inches on the dot. Then the bass rolled though. From 615am till 645, I landed 14 black bass and a toad 22.5 Black Bass!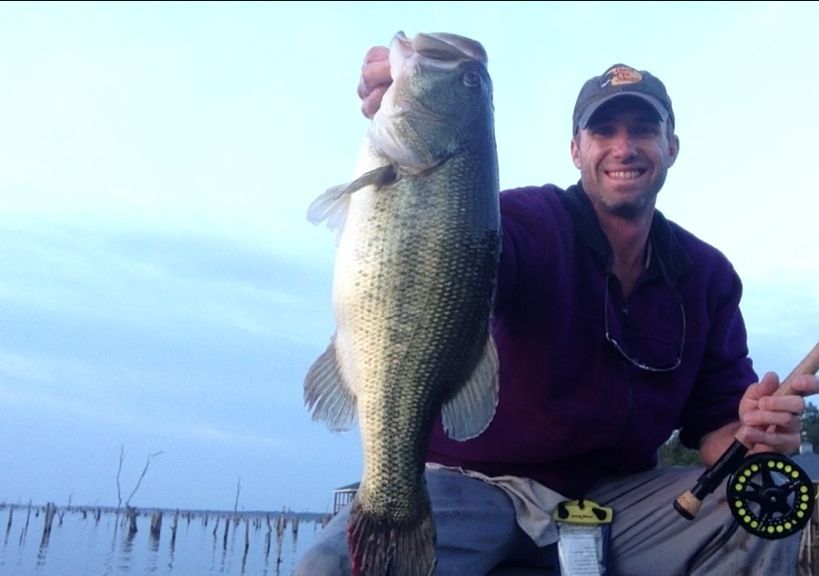 I texted a buddy telling him: I think won. He texted back that the tourney just started. Well, I figured no one had caught that many or even close to how big 4 of mine were.
So then the wind and air pressure started to get all funky. I hid in a cove for an hour and the wind changed again and it was blowing NW. So took a long drive to the east arm, and the water was crystal clear there. Then 20 mins later the wind changed again and blowing right into the cove I was in again. I just needed one more big fish for the the five fish limit. I needed one bigger than 20 inches. I had a 17 incher in my five fish limit already, but I really wanted another 20 incher. Then I found one in 3 ft of water sitting near a log guarding a bed. I put my red neck power pole down, a cinder block with rope, and sat on her for 45 mins till she made a mistake. Took me 9 mins to get her in. She pulled me 50 yards from the hook up location and had me weaving in and out of the trees and under a log, but she came right back under the log and out pretty much without me doing anything. Otherwise, I thought it was going to be over after that. After that epic battle, my line didn't even have a nic in it. Crazy.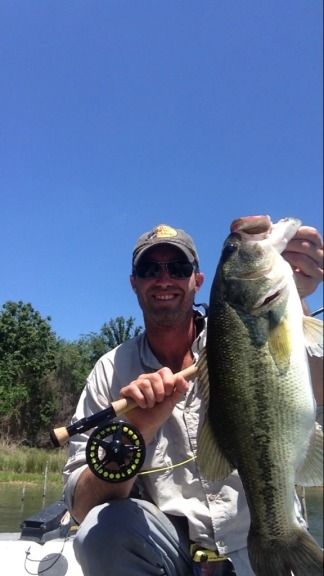 Tip: if you have a camera/ video smart phone like I have the iPhone 5. Video yourself! Then you can pause the video, and push the top power button and the menu button at the same time and take a screen shot of anything on your screen at the moment. That's how I took the photos all alone when I'm out solo.
At this point it's noon and I am pretty sure I have it won so I trailer the boat. I pull up to the kiosk and weigh in and there are 3 boats there already. They gave up and didn't catch anything. They did the numbers and I had 100.5 inches for the win and 22.5 inch bass for the Bigg Bass pot.
1st Place and Biggest Bass.
I am now the new "World Champion Bass On the Fly" holder. 10 years ago, when I started to guide Sandbass in a creek from the bank, I never would have guessed I would be a World Champion Fly Fisherman!
The Top Producing Flies I Tied for the Tourny: I tied up big flies for this trip. Go big or go home. -and i got some big ones!
The above fly is what I caught 90% of the fish on.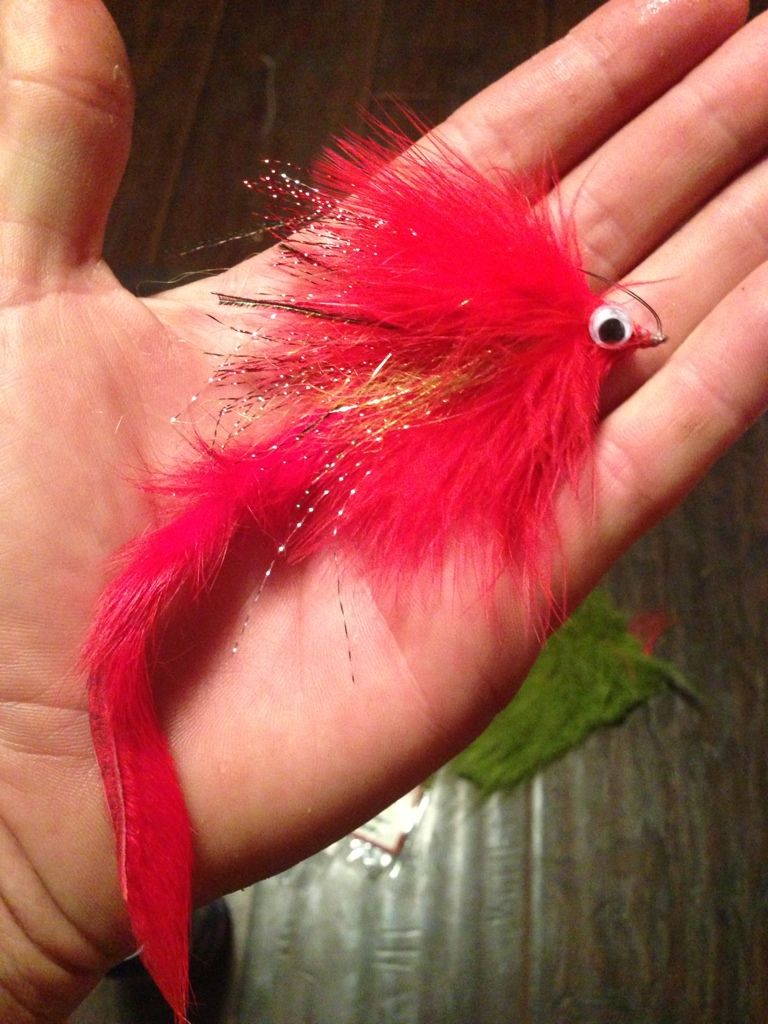 -2nd time flyfishing for black bass.