Thursday night, we drive the hotel and go to register first at Lake Fork Marina for the McDonald's Big Splash Bass fishing tourney. Ouch! The line was an hour long. I was told during the day it was 2-4 hours at times. Make sure ya'll register on-line. There is no reason to stand there for an hour. I have no clue why I didn't do that in the first place, I did it on-line last year. So, after that was done, we checked into the hotel and found out it was to late to get food anywhere, except a gas station down the street had a grill. They have a very very spicy chopped beef roll thing. Its freaking spicy! – and I can eat jalapenos raw with ranch. But this thing was prob the hottest sandwich I have ever eaten. BUT, it was actually very good. Went to the hotel and got all set up and rigged all the rods up. Crashed at 10 pm.
Day 1:
We were on the water at 445 am and headed to a cove on the GPS, 5 mins away. We trolled the way there there due to I have only been on Lake Fork 4 times. I was a bit irritated at my partner cause we didn't get to pre-fish it due to his mess up last week. And, also the fact that he didn't come to the tourney at all due to not thinking ahead! It was me and girl friend this trip. To add, she has bass fished 1 time before this. I don't remember that day though, but she said she did it once.  6 am came and we started casting. Nailed a bunch of 5-6 inch bass right off the bat but that was it for awhile. About 8 am we headed out main-lake since we could see better now, and started making a track and exploring. Friday was "hope to catch fish", but more of trying to find spots to hit during the next 2 days of the tourney. We rolled up on a spot I have fished before and I sat down and taught the GF how to worm fish.  In about 45 mins she sets the hook and puts a 1.85 pound bass in the boat. We hold the dang thing all day long but other people had bigger fish obviously. Anyways, we end up catching 8 slot fish  throughout the day. Fun to catch but very disappointing to reel in a big 5-7 lb fish and have to throw her back in the drink. I would take those all day at Hubbard and Lavon. Its actually hard to target 2.0 pound fish. It was driving me nuts to listen to the radio and fish being brought in and they were beating the GF's fish every time. I really wanted her to weigh in a fish during the tourney. I text-ed a client of mine that fishes Fork a lot and he told me a couple spots to try out. (Thanks D.O.!) So I marked a track to all the holes and places I wanted to go so I could navigate safely in the wee hours of the morning for Day 2. Dropped the GF off at the hotel and I went to play at the Lake Fork Tackle store. Chatted with Ronni's wife for 30 mins or so till Ronnie free'd up. Got some new baits for some crappie fishing and also stocked up big time on a bunch of plastics. I should be good for a few months. The GF thinks I collect plastic worms or something just for fun. -She just does not know the reality of bass fishing. You just never have enough. I'm sure I didn't even have a 10th of what some of y'all have have, lol.
Day 2:
4:45am we roll up to the 1st spot after trolling around looking at the depth contours and I finally find what I am looking for and we tie off to a tree. I set up everything and turn my green lights on (WildcatLighting.com) and we take a little snooze time under the pretty stars. Saw a couple meteors fly by too. I wake back up at 545am and hear a fish pop the surface. I look up and see 10-15 shadows on the outside of my green lights and fish chasing shad  and glass minnows all around my boat. I am like a kid in a candy store now. I see some keepers and a bunch of slots swimming around there…. GF says its 6 AM. I make a cast – HOOK UP! I land a fish and it weights 2.20! But, its a sand bass. Second cast, I land a 21.5 inch slot fish. 3 rd cast I land a 20 inch slot fish. Around the 5th cast I land a keeper 1.98 lb under, and throw him in the live well ($700 mistake right there.)  I decide to stay and not weigh in, and try to catch a couple more to fill the live well up with a limit. All I end up catching is more slots and enormous sandbass. ( Here is my twist to the AM of catch catching these fish. Jig and bobber on 6 lb line. The jig is a Zoom Tiny Fluke in red on a 1/16th oz jig head powder painted Emerald Green and its hanging below a 2 inch cigar bobber about 6 inches down. ) The fish were eating small minnows, so I didn't want to rip a loud crank-bait through them and spook them. So I unspooled all the 12 lb line off the GF's rod and put on 6 lb at 550 in the am and busted out the crappie tackle box and rigged the jig and bobber up with 3 mins to spare. I almost left it at home. I go in and weigh the fish and got bumped out of the 10-11 hour. We go out and find another fish 1.98 lbs. We go in and weigh it. I get bumped again….ahhhhh! Driving me nuts. We catch a few more slots and go back to the hotel.
Day 3:
The same thing in the AM as Day 2. We set up at 4:45 in the same spot and turn the green lights on. By 515 we start seeing shadows around the boat. 6 am comes,  and they don't want the jig! I pick up a square bill and BAM! I'm landing fish every 5th-7th cast. Again caught about 10 sand bass, 2 massive channel cats, 8 slot fish, and two small keepers that i just threw back, they were not even 1.85lbs. Had fun but no money fish. By the time I would have got to the weigh in with these fish, it would be to late. I was to far away to make it the 1st hour. So about 8 am, we went to some other spots and I land a 1.94 lb under. I decided its time to weigh it in and we take off to the marina. I sit down in the number 6 chair with 8 mins to go in the hour left. I get bumped all the way down to 12 th but it finally holds! ( $225) not a lot of money but at least I placed and got my name on the board!

Smack in the middle "Carey Thorn" w/ a  close to a world record Black Bass of 1.94lbs at 15.75 inches in the 10am-11am hour. (Remember this is a slot lake. Only 0-16 inches & 24 inches plus – may be retained. 16-24 inchers have to be tossed back.)
We go back out and try to land another on but all we get is 2 more slot fish, a gar, and three sandbass. We finished up at the bridge and tried to get some of the schoolies to bite but again, just a slot fish to end the day.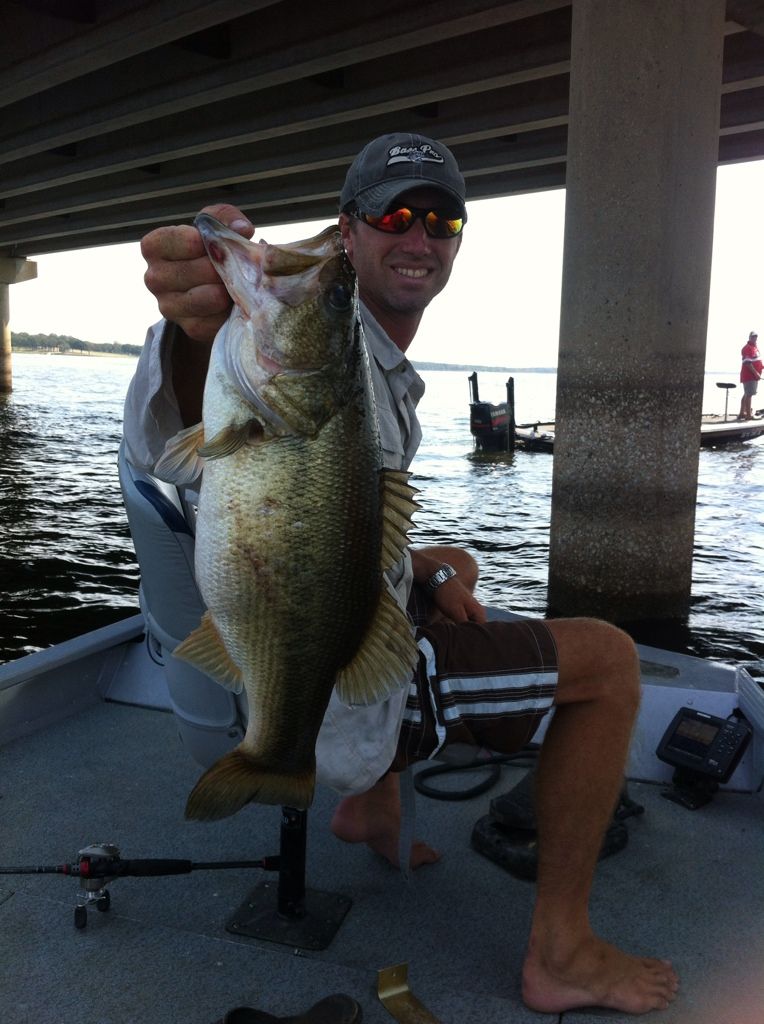 Lake Fork McDonald's Tourney 2012 (how my days went)
Carey Thorn