Do you have a Side Imaging fish finder? Do you look at it, scratching your head trying to figure out what your looking at? Well, in todays class, I am going to give you a crash course in what you are seeing.
Found a road bed the other day and brush pile near it (Bottom right. I zoomed in and you can see the crappie on it. They are the white streaks. 15 or so its looks like.) Caught 9 of the crappie on this brush pile.
I was out on Lewisville and at one point in the day, I headed to the I 35 bridge and scanned it. I was looking for crappie this day and after making one pass of the bridge, I didnt see anything. There were no fish on column row #1. Same on row 2-3. Then on row four, BAM! They were on the outside pylons in the AM and moved with the shade and only were within 2 pylons.
Bottom left you can see some pop corn looking stuff under the support beam on the pylon. Thats a school of crappie with a small school of shad to the right of them (which would be, actually above them).
These fish were not hungry. It was the day after a strong cold front and I already knew we would not be catching anything really worth our time. But, if you look closley, you can count a two man slimit of crappie in the picture. Below is another part of the bridge. Again, you can see the crappie under the support beams.
Dropped down a couple times where I saw the fish only to pull up dinks and baby blue cat fish. They were not biting so I decided to head up a creek. Took a long time to navigate up the creek but no crappie yet. Just gar all over the creek. Lots of small shad. Thats what the fuzzy cloud is they are swimming in. They were jumping and even schooling at times on the the shad balls.
You can see the long white streaks…gar.
Now this is the Honey Hole. Its a bend in a creek from last year that was pretty much a limit everyday plus some. You can see the crappie schooled up in the bend on the right. The white dots and small white streaks are the crappie. There are over a 100 crappie in just this bend alone.
Still scratching your head? Okay, I will make this simple to read then. I'm just going to rotate the images for you so you can see and understand what I am seeing.
A quick overview. Some people look at this and say "what are you talking about?"
Look at Side Imaging like this:
This is what the image looks like as you are looking at your unit:
Put the black on top by tilting your head to the right.
-Then it should look like this:
In the picture above, think of it this way, your 50 ft away from the bridge floating on the surface and you take a camera and go under water and take a pic of the bridge. The blackish lines paralleling the pylons are the sonar shadow.
Ill do it again with this bridge picture:
This is what you see while in the boat.
Now Ill split the screens to make it readable. I distorted part of it to less confuse you.
Now it looks like you are on the bottom looking at the bridge in top and bottom pic. Bottom right is a zoom in.
My client the other day left with some nice slab crappie from the bridge after we found them and went back the next day to see who wanted to play with our jigs. Left with some good fish that day. Forgot the ending pic. But here is one of his nice crappie.
Here's a new pic for today's report.
The specks under the support beam are Crappie!
They were biting very odd today. Had Mr. Mart meet me at my house today. Got to the lake about 1030 am and left at 4pm. the crappie were being very odd today. Just sucking it in very very very lightly and holding not moving. A lot of times. The big Black Crappie would hit it and start swimming off to one side or the other but not diving or rising. They had a magic depth they were going to stay in. After the second Crappie, we had a pattern. Never changed all day. We actually left them biting so we wouldn't get stuck in traffic.
75% Black Crappie
25% White Crappie
—————————————————
More side scan-
What you see live on the screen. Again, tilt your head to the left.
All kinds of neat stuff in this. So, I'll tilt your computer for you again. So what do you see?
Now here's what you see:
As you can see, if you are not fishing on top of these guys, you prob wont catch one. You might have a brush pile that was producing under a bridge, but you go back to the same spot the next day and then NOTHING. Not a bite…..? Well they might have moved 30 yards to another location. Its all about finding the bait balls. Where the shad are, they are. Now, Side Imaging does not see every fish. Just because I pass the bridge once and not see anything, does not mean there are no fish. Scan it from another side too, Side Imaging does not see around and behind structure. I usually scan every side of the structure I am fishing. They might be hiding on the other side! Today was all about the shade and current. The wind picked up and the crappie were hiding at the end of the day and only in one particular depth range and spot on the bridge. Then it was 3 keepers every ten minutes or less. And its going to get cold! Here comes a cold front. Fishing is getting hotter and hotter!
Time for class again. I pulled the pics off my unit today that would make sense.
Tire reef at Lake Lavon, near the Power House. On the right image, side scan, you can see white slashes over the tires. Those were sandies and a few crappie.
These are Hybrid Striper at Ray Hubbard. They were feeding on shad and pushing them up on the shallow flat. Most of the fish are on the left side of the boat. White dashes are them. Limited in less than 20 mins that day.
One of my favorite brush piles. Made them in a line on a creek channels ridge. Only thing that makes scaning difficult, is, when there are millions of shad up and down the water colum. Makes it hard to see the crappie "popcorn" looking images on side scan with all the freakin shad around. Plus with this many shad in the image, its tough to trick a crappie to eat plastic when hes got shad everywhere.
In this pic, I scanned a line of trees with some brush below them. The trees are tall, note how long the sonar shadows are. They are actually sticking out of the water a ft during this scan. One tree had brush almost to the top of the water and the crappie were sitting about 7 ft down. Look close. All the small specs are the targeted fish. Tured out to be little 6-9 inchers.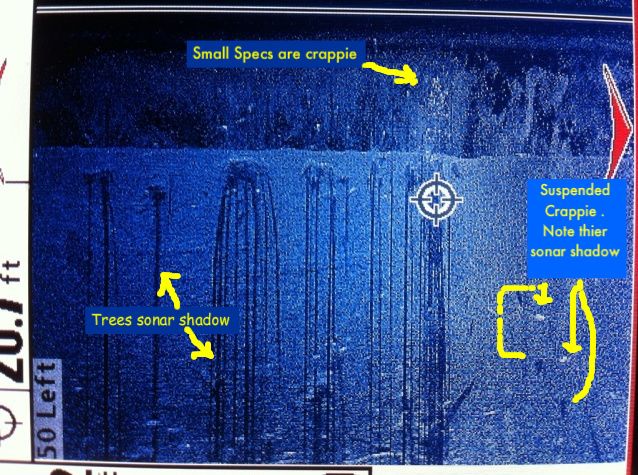 I love to find stuff like the pic below. Cruising through a creek channel and BAM, theres a brush pile with crappie on it. Note the white specs near the cursor.
Road Bed I went over. Not any fish worth casting at.
Slabbing for sandies. In this pic the sand bass are swimming under the boat. Im just drifting.
This is a pretty neat picture. Its Collin Park Marina at Lake Lavon. You can see when they moved the whole marina to deeper water. Scrapes on the bottom from the poles and dragging stuff.
This is what it looks like when you hit a stump. I immediatly mark it.
Brush Pile on the right.
Understanding your electronics is a Time On Water issue. Im on the water everyday weather permitting. I have 1000′s of hours playing with this incredible unit. I hope this helps. Let me know if you have any questions or comments. Thanks for reading!