Today was TFF member Mike, SN- HereFishy's Birthday.  So we decided to go on a road trip for something new for him, and me. We wanted to go somewhere that we had not been to. So, it was either go to Cedar Creek and load up on some slab crappie, or, Lake Texoma for some Striper, then Crappie. The Crappie never crossed our minds after today's epic expedition.
After we decided to go to Texoma, my video guy, Corey called and asked if I was going fishing today. Long story short, I picked him up on the way out there and all three of us got to the lake at 645 and were idling out to the main lake.
This is the first time I have taken my boat out to Texoma. Man, did I forget how much deeper it is than my surrounding lakes near Dallas. I had to figure out my Humminbird all over again. Everything on the screen is much smaller when it's 50-60 ft deep. I think it took me 15-20 mins of driving around to tweak the unit and figure out what I was looking at, then it was game on!
At 715 am all three of us had an over in the boat at the first stop. Within 6 casts total.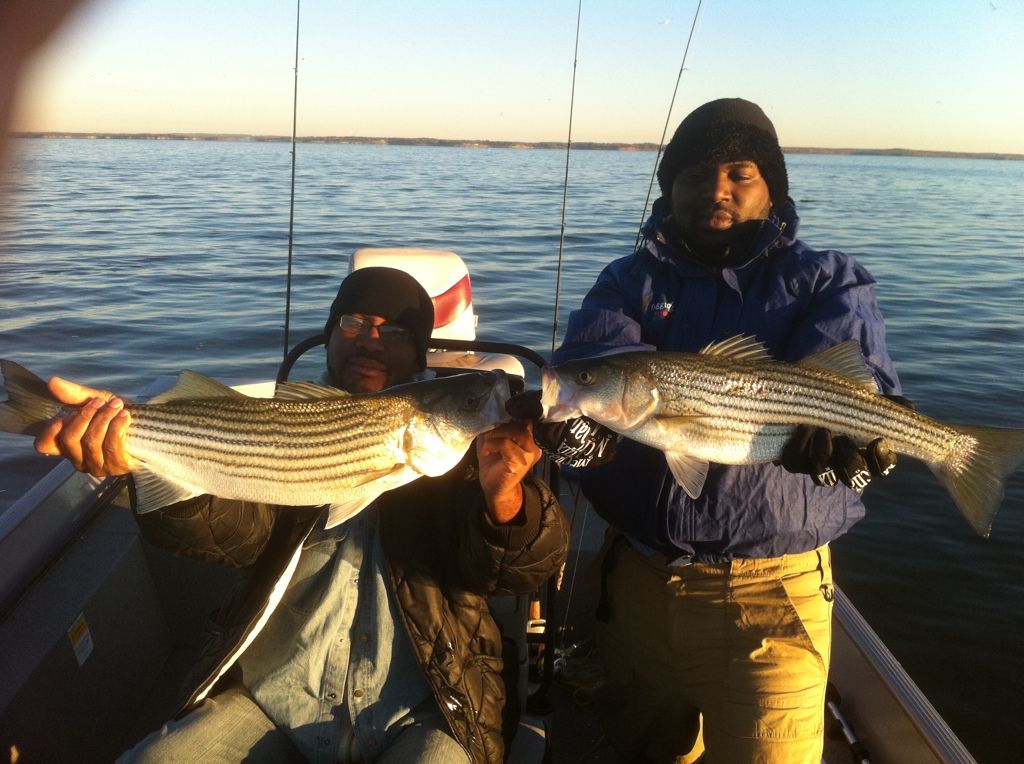 The birds helped us out sometimes by locating the schools of shad and fish busting through them. There was a lot of topwater action the first 30-45 mins. Then all the fish dropped to 10-35 ft. Only bad thing was waiting for the lure to hit the 35 ft mark. But when it did:
By 9 am we had boated over 30 OVERS!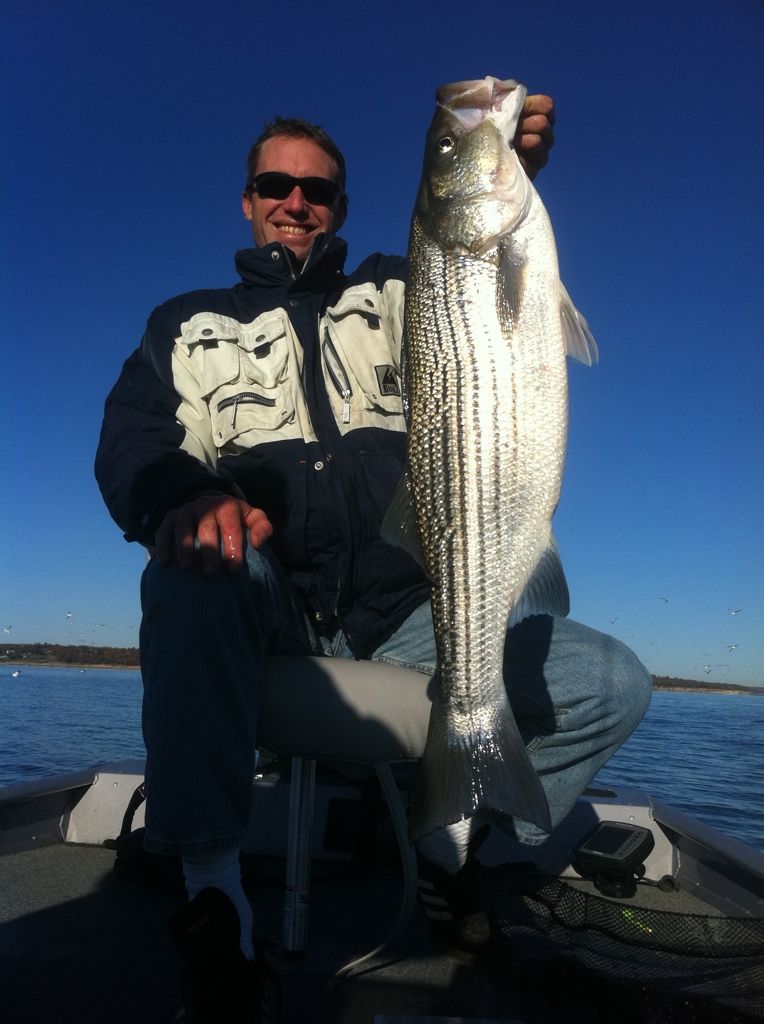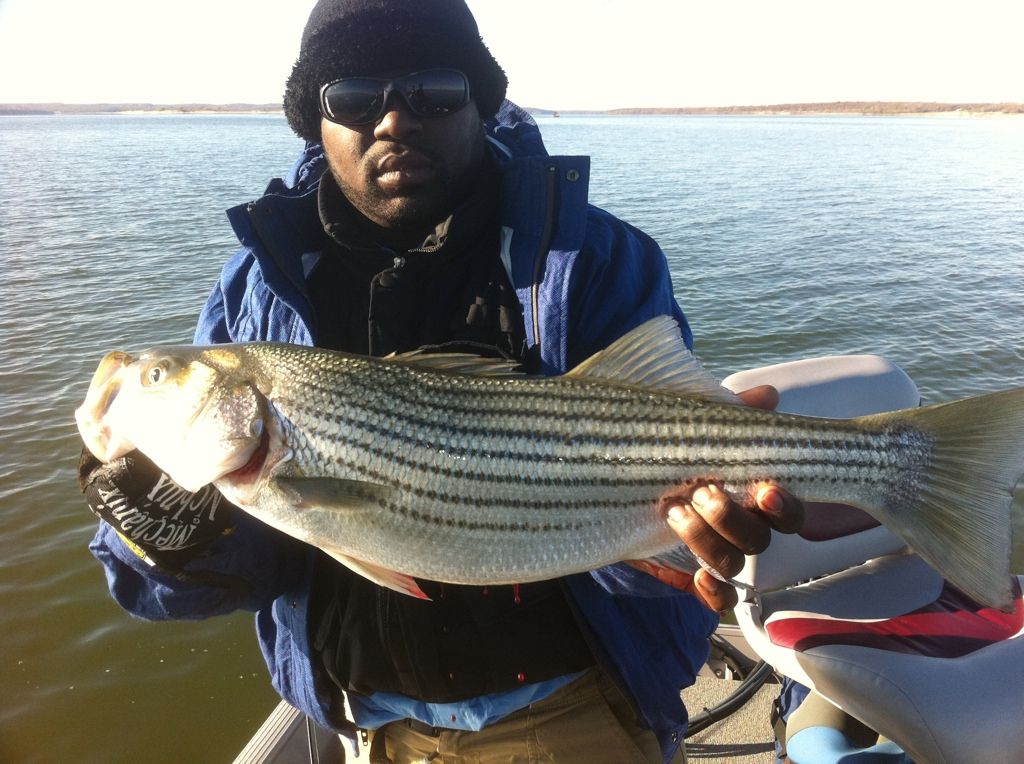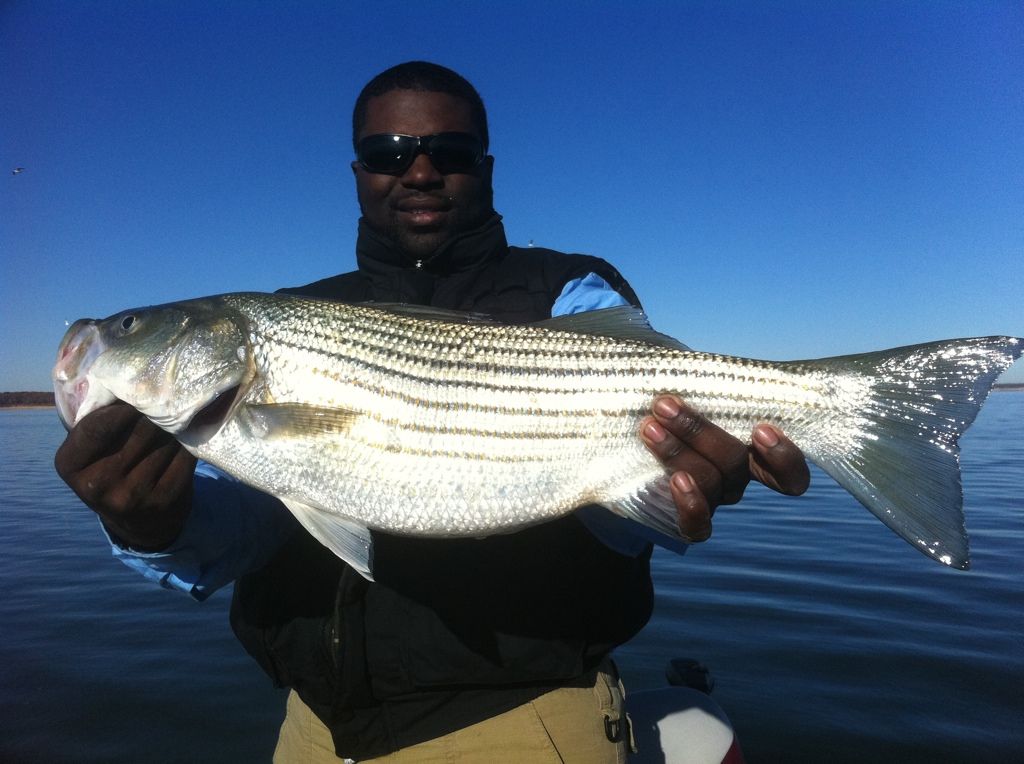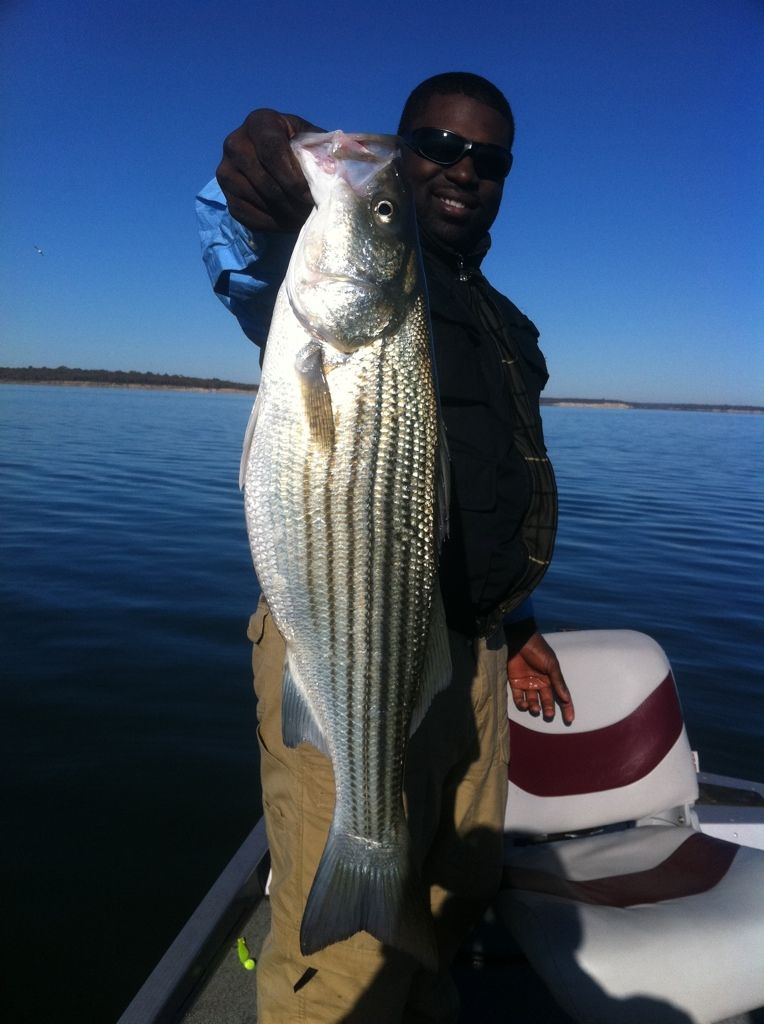 I have to say, for the first time on the lake in my boat, it was a great day. If we got out of 50 ft of water, after 9 am, the fish were not there ( at least where we looked and fished ). 50-60 ft of water from 0 ft- 35 ft of water was key.
For Mikes birthday, I put him on his personal best Striper 28 inches. For Corey, I put him on his personal best Striper 29 inches. For me, I put myself on my own person best, 32 inches! Out of respect for these huge & beautiful fish, all 25 plus inch fish are still swimming as we speak.
Sounds like a good day huh? Well, it only got better!
At 10 or 11 am, the fish disappeared, but we would find some here and there, but it got boring, action wise. So, I asked Mike, if he had ever caught a Smallmouth Bass…? He said no. And, I knew Corey had never caught one. Well, I pretty much knew where they lived and how to catch them from beating the banks and fishing out of my One Man Pontoon boat.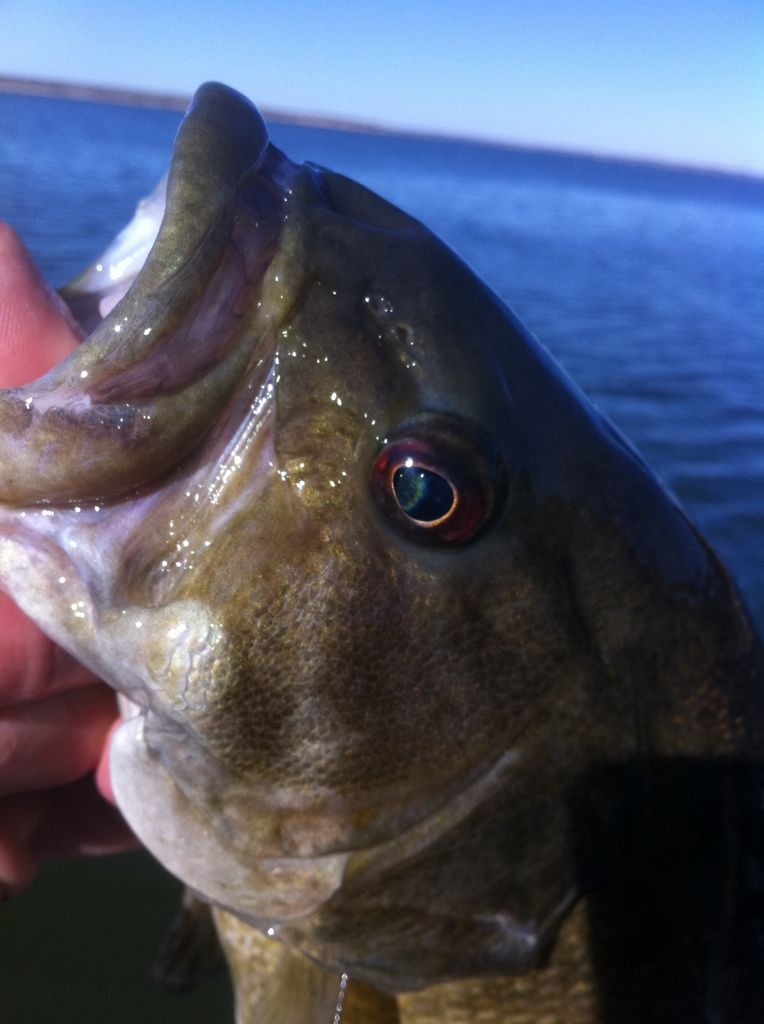 About noon, we re rigged for smallmouth and largemouth. Big Big boulders next to a severe drop off and I'm talking about 6 ft dropping to 20+ ft almost instantly. However, we did catch a few on some flats, but they were smaller and more scarce. Biggest was just over 4 lbs. I think we landed close to 20 quality smallies.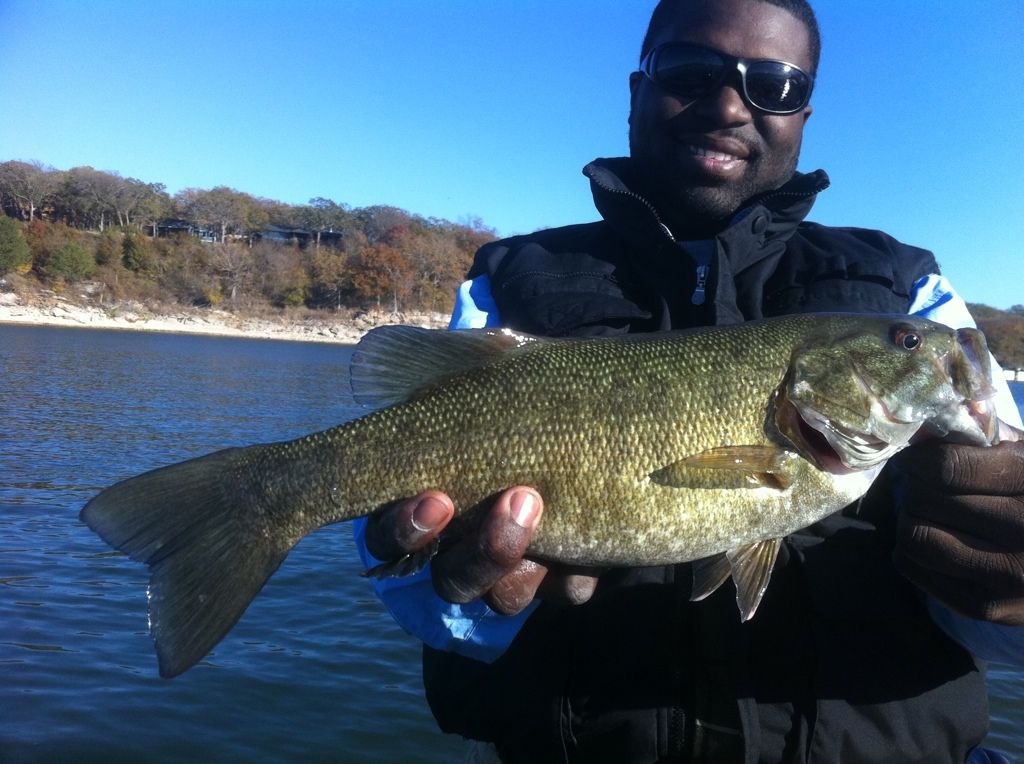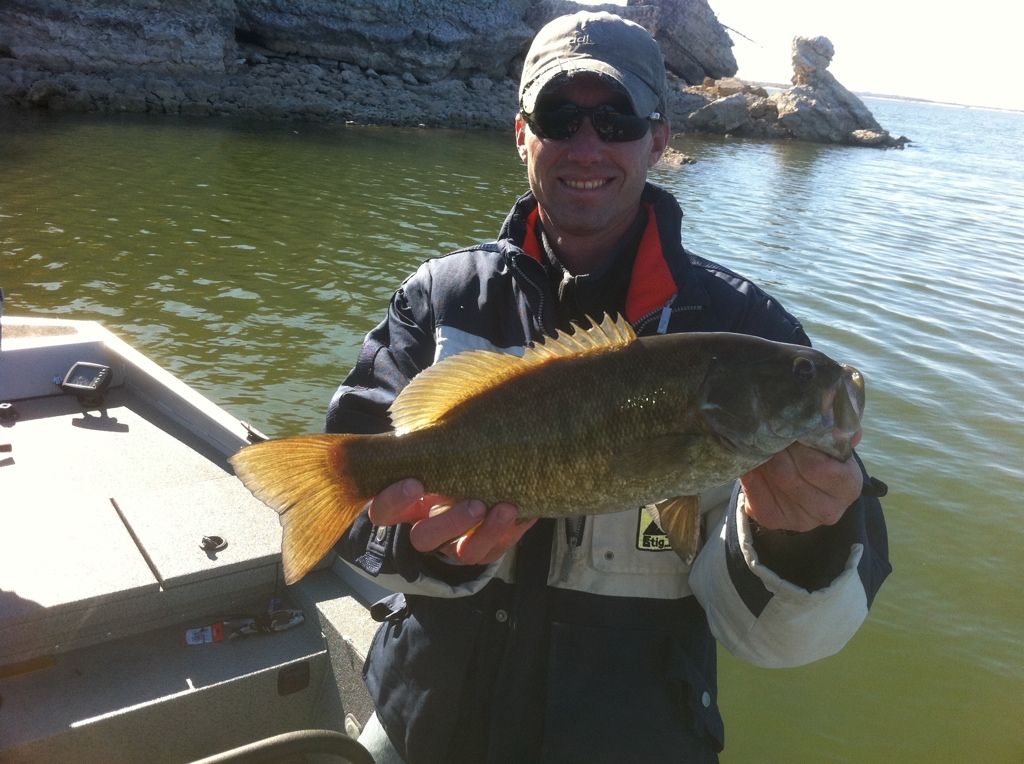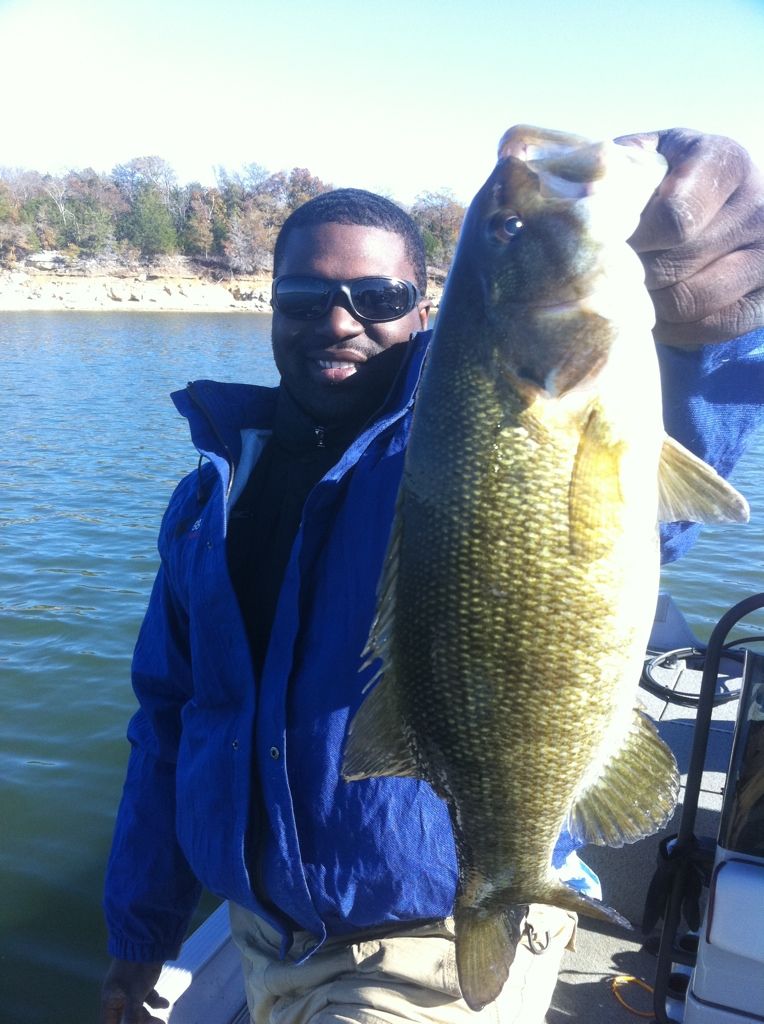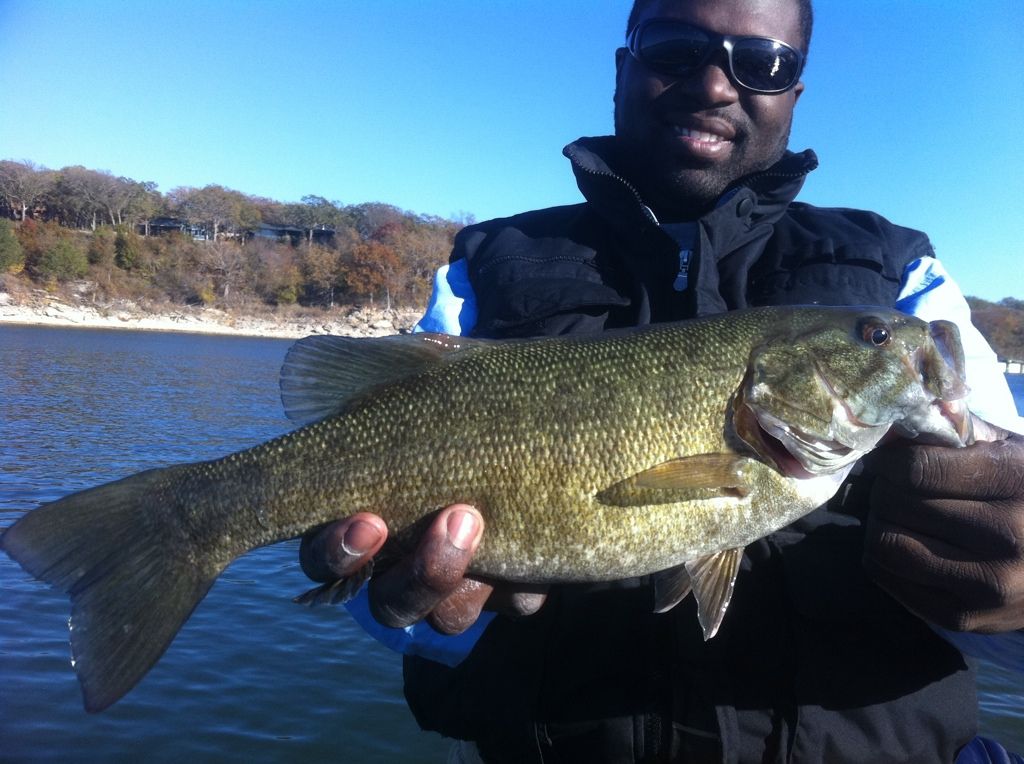 We only targeted Stripers and Smallmouth today. This lake has all kinds of fish in it to target if these are not you cup of tea. But, pound for pound, the stripers and smallmouth are a great fight.
One thing I "love" to do, is, walking around the banks of marinas with a fly rod and a sparkly olive woolly bugger, you will find solitary stripers, common carp, buffalo fish, sunfish, largemouth, huge grass carp, and multiple kinds of catfish, roaming the shore line. Use polarized glasses to find these fish and you will be busy all day. Make sure while walking the banks, you wear dark colors. Otherwise the fish will spook.
The lake is low now and the islands are super exposed. Take great care when navigating the water this time of year. Crusing to close to the shore line will or might involve a meeting with a boulder.  That will end your trip very fast.
Texoma requires its own fishing licenses. A Texas fishing license and an Oklahoma license will work, or they sell a Texoma License that allows you to fish the lake instead of buying both TX and OK licenses. Have fun out there and be carful.