Spring is almost here! The Black Bass will start to spawn in about a month in all the lakes, creeks, and rivers. Some bodies of water have already got males on beds.
But, the thing most people don't know is, small ponds in Urban areas such as Community ponds in the middle of your residential areas are loaded with Sunfish, Catfish, and Black Bass. All you have to do, is walk the banks of the local ponds and see if anything is there waiting for your lure to pass by their bucket mouths.
I hit a local public pond last week and caught 57 Black Bass from 3-5 lbs. 2 hours! And, the small pond I was fishing at, had a Share a Lunker bass entered in their program (if I remember correctly). It weighed 12.9 lbs and was caught by John Ramos. Most people that I see at the small ponds, are cat fisherman. Not many people throw lures at these nice sized, Large Mouth lurking the, banks waiting for a, bluegill to mess up and get, to close. , The state stocks a a couple of ponds with catfish, sunfish and Florida Large Mouth Bass. Look up your ponds at this link to see if they stocked it or not.
I like to throw reaction baits, like crankbaits during the day and buzz baits and topwaters right at sun-up and right before sundown.
If you were to peek in my tackle box while at a pond, you will mainly see me with a KVD Sexy Shad square bill, with 10 lb line. Ill fan cast a spot and move down 20 yards and start the fan cast all over again. One thing about pond fishing, There really is no pattern to catching them. The roam all over the place. If there is structure in the pond, cast at it. Bump that crankbait into the structure and if Mr. Bass is there, he should take the bait.
A big tip for a lot of ya'll, is, the ponds are shallow and most have concrete surrounding them or in the middle of the city, it's warmer and the ponds heat up faster. So that means they will go into spawn before the main lakes do. I would think by the end of the month, you should start to see them in 2-4 ft of water on beds. If you use your polarized glasses and the water is clear enough, Ill use a Tiny Fluke, made by Zoom, in Albino. Ill hook it on a 1/32 or 1/16 oz jig head in white. Ill cast the jig 4 ft on the other side of the bed and drag it through the bed and let it sit there till the fish pick it up. If you spook a fish off the bed, Ill, drop the jig, dead center in the bed, and sit down on the bank as still as possible, The bass will return to the bed within minutes usually. When it does, Give the jig very small twitches., as small as possible with out moving it, out if the bed. It drives the fish nuts, They think a small minnow is eating their eggs and will attack it. Sometimes they will actually blow a puff of water on it and blow it out of the bed. They get smart, so, I also use 6 lb fluorocarbon to make the line invisible to them. You wont be the only person targeting these fish, lol, other people know, too. But this should nudge you in the right direction.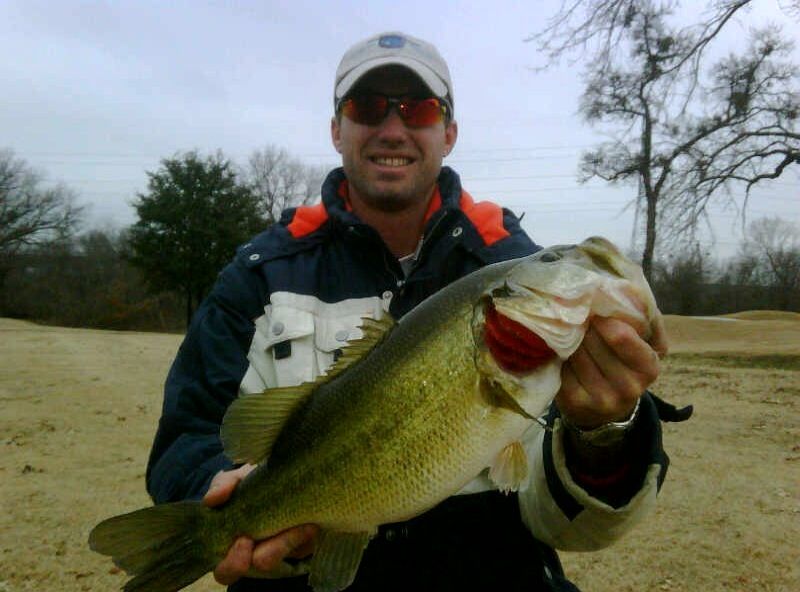 Have fun and make sure you have your fishing license and also make sure the water you are fishing in, is legal to fish in.