Fourth of July is a great time to celebrate.
And in doing so, many people will take to the area rivers and lakes to enjoy the day with their family and friends.
While many will enjoy a day of fun in the sun on the water, local game wardens will be out ensuring that they are doing so safely.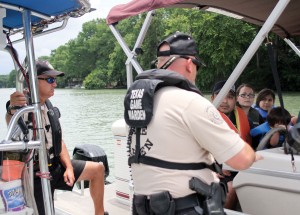 Texas Parks and Wildlife Game Wardens Tracy Large and Kevin Frazier will be hitting the water, but they will not be alone.
"The sheriff's office will have some deputies out patrolling and we will have a couple of game wardens who are coming in to give us a hand," Frazier said.
With waterways in other parts of Texas still trying to recover from last year's drought, Frazier said the county's lakes could see an influx of people.
"With other lakes at lower levels and these are constant level lakes, we can expect to see more traffic," he said.
While the officers are out, they will be making sure that everybody is boating safely.
Officers will be checking that each boat has the required items.
"Make sure that there are enough life jackets for every person in the boat to have one," Large said. "Everybody under 13 needs to wear one at all times while on a boat. Every boat should have a type IV flotation device."
He added that each boat has to have a fire extinguisher and a sound-producing device such as a horn or a whistle.
Personal watercrafts have slightly different rules, Large said.
"On PWC's everybody has to wear a life jacket at all times," he said. "The driver must have a lanyard with a kill switch attached to them."
While personal watercrafts have to be off the lake at sunset, boats just have to make sure they have lights on, Large said.
When boating on a lake, both game wardens urge people to know the area they are going to be on.
"There could be stumps and other objects that are just below the surface that you may not know are there," Frazier said. "Also, notice that most of these lakes are rivers and how narrow they are."
Distractions can play a part in changing the good times into something bad, Frazier said.
"It is easy to get distracted while on a lake," he said. "Accidents happen when people aren't paying attention and that is when somebody gets seriously injured or killed. Also, be courteous to other boaters and remember the 50 feet rule, when passing another boat or skier stay at least 50 feet or more away from them. Slow down around skiers or wake boarders who are in the water."
With celebrations come libations, Frazier said.
"We want to make sure everybody has a good time but stays safe," he said. "It's OK to drink and boat, but we recommend having a designated driver."
The laws of boating while intoxicated are similar to that of driving, Frazier said.'