A mountain lion that crashed through the glass door of a Baker home was killed Sunday after a chase and standoff.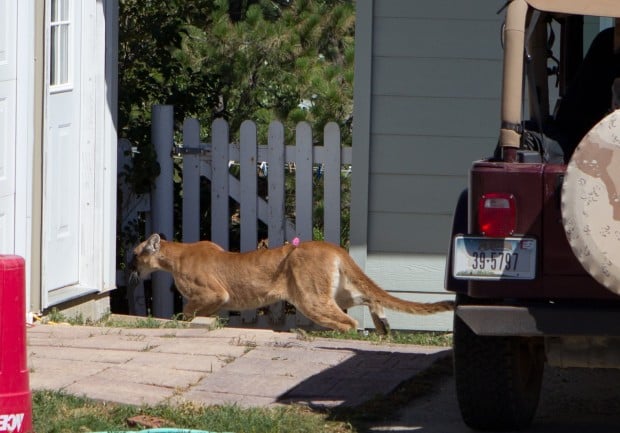 The lion, a young male the size of a large dog, was shot underneath a porch after leading police and game officials on a two-block chase. Although there are mountain lions in the area, they don't come into town often.
"It was a young cat, a year and a half old, maybe looking for a territory of its own," said Montana Fish, Wildlife and Parks warden Todd Enders.
Enders has worked in the Baker area for five years. This was his first in-town mountain lion. The lion was also a first for Isabelle Jacobsen, who was still in her nightgown at 8:50 a.m. when a police dispatcher called to warn that a mountain lion was spotted in her yard.
The dispatcher cautioned Jacobsen not to go outside, but all the mother could think of was her daughter, who had walked to church that morning and would soon be coming home.
"Of course I tried to look out the window. I couldn't see anything," Jacobsen said. "But then I see the game warden and the police department. I opened to door to tell them my daughter would be coming home from church. The lion was crouched by the lilac bush by the door."
But Jacobsen didn't see the lion. She stepped back inside to speak with her husband, Mark, who decided he would slip outside to their pickup and go intercept their daughter on her way home. Just after Mark Jacobsen reached the truck, the mountain lion ran toward the Jacobsens' glass storm door.
"It ran all the way around the house, all the way to that door. I don't know if he saw his reflection in the door. I don't know if he felt cornered, but he ran right through the door," Isabelle Jacobsen said.
There was a spray of glass and suddenly Jacobsen and the mountain lion were a couple of feet from each other in the entryway of her house. The mountain lion was crouched. Jacobsen's dog, a handbag-sized bichon frise named Queen, was in full bark just two feet from the big cat.
Jacobsen, whose bare feet were bleeding from the broken glass, looked over the mountain lion and concluded that it was more bewildered than aggressive. The woman stepped in and retrieved her dog. The mountain lion bolted for the basement.
Downstairs, the Jacobsens had a houseguest, 16-year-old Kendra Swanson, who was visiting from Bowman, N.D. Jacobsen asked her son, Alain, who was sleeping upstairs, to phone the Swanson and tell her to stay in her room.
The cat retreated to a downstairs recreation room and hid behind a recliner.