In 2010, Marylee Moreland resolved to take up archery hunting.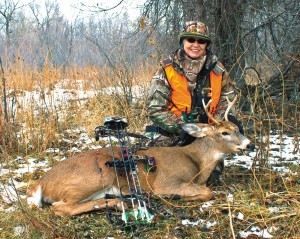 "I decided last year that I was going to be 70 years old in a year and I didn't have a hobby," she said. "I have never really had a hobby where you're doing it for strict enjoyment."
Since her husband and business partner, Gary Temple, was involved in the sport, archery seemed like a natural choice. Temple was only too happy to have her along.
"I'm proud of her," he said.
Now they practice together in their downtown basement archery range, have taken hunting trips to Canada for black bear and Texas for axis deer, in addition to pursuing whitetail from a treestand near Red Lodge and cottontails on a friend's ranch near Cody, Wyo.
"For me, the wonderful part of it was the spousal support," she said.
"I'm not really a trophy hunter," Moreland added. "I went from bunnies to bears to whitetails."